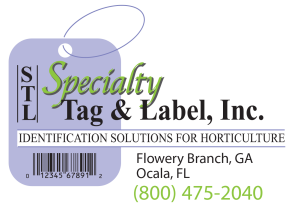 Head Quarters Located at 3963 Falcon Parkway, Flowery Branch, GA 30542
Florida Distribution Center Located at 820 NW 25th Avenue, Ocala, FL  34475  (Now Open!)
We provide tag, label and printing solutions for the green industry and other harsh conditions. Our extensive experience in nursery, greenhouse grower and retail garden center environments assures proven solutions for weatherproof, waterproof, UV stable printed media. Whether you hand-write tags or need the latest technology for successful barcoding we have products to accommodate your needs. Call us for a free color catalog or peruse our website for all of our products.
Specialty Tag & Label, Inc. was established in Flowery Branch, GA in 1997 by Ron and Jan Plumlee. At the time, Economy Label Sales (Now Sato Labeling) was moving from direct sales to selling their products through distributors. Due to Ron's extensive experience with printers, tags, and labels, he was offered the Economy Label product line as a distributor for a small southeastern territory covering Georgia, South Carolina, North Carolina, and southern Alabama. The company was literally run from Ron and Jan's home, with inventory stock in the basement and garage and the office on main. Ron and Jan's son Paul joined the company in1998 and his wife Marsha in 1999. The Economy TXP series printers were dominating the green industry market and these sales would help grow Specialty Tag significantly. Specialty Tag & Label's territory now covers thirteen states and has grown to employ nine people. The TXP series printers continue to dominate the horticulture industry with over 7000 sold nationally.
Specialty Tag & Label now boasts a 6,000 square foot high bay facility that is dedicated solely to horticultural identification products.  This is maintained by a state of the art inventory control system and live voice customer service. We provide tags, labels, and signs for all types of applications: hand-writable, laser, and thermal. Or, take advantage of our Quick Print service with which we can print any thermal or color laser tag or label listed in our catalog with a speedy turnaround.
We can cater to the Mom and Pop companies since we have no minimum order, but at the same time have the ability to service a multi-skid stocking program for the larger companies. Every Specialty Tag customer gets treated like our largest customer!